The Endpoint of No Return
Why you need to upgrade your endpoint protection
---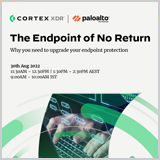 Just one instant. That's all adversaries need to bypass, infiltrate and compromise your organization's endpoint security.
But, you can take proactive action to block new threats and learn about a more modern approach with best-in-class endpoint protection, detection and response. Understand why traditional endpoint protection solutions have limited effectiveness and why it's time for an upgrade.
Join us on 30 August as we:
Demonstrate why legacy approaches to endpoint protection fall short.
Discuss how to implement an effective endpoint security strategy to help stop today's most
Analyze recent endpoint attacks and how they were defeated with best-in-class endpoint security.