Accelerating Digital Innovation with Red Hat OpenShift Service on AWS
Whitepaper
Published August 2022
---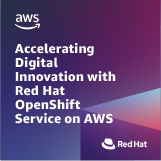 As organizations strive for greater innovation and productivity to fuel business transformation, they have increasingly adopted application containerization to simplify and accelerate application delivery cycles. Companies of all sizes are using Red Hat's OpenShift to make applications portable across environments, including on-premises and cloud.
Red Hat OpenShift is an enterprise-ready Kubernetes container platform with full-stack automated operations to manage hybrid cloud and edge deployments. Red Hat and Amazon Web Services (AWS) are collaborating on a fully managed and jointly supported offering—Red Hat OpenShift Service on AWS (ROSA)—that can be consumed on-demand from the AWS console. ROSA complements other AWS cloud-native services, reduces operational complexity, leverages cloud scalability, and simplifies budgeting with hourly or annual billing on a single invoice.
Download this whitepaper now to learn more!