The 7 Hidden Truths Of Cloud Security
Whitepaper
Published August 2022
---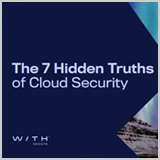 The latest tools and procedures only go so far – for cloud providers, security vendors and customers alike. Far more effective is cultural change, and the right, outcome-based security approach can magnify the force of good tooling and technique a thousandfold.
Investing in creating a strong, devolved approach to securing cloud, just as you secure your own organization, will reduce the hidden cost overhead that cloud can represent.
Here, WithSecure™ presents seven hidden truths about cloud security in 2022 and show how organizations are writing new rule books that restore the benefits of a cloud approach and an assurance that their clouds are helping, not hindering, their goals.