A Guide To Embracing A Zero Trust Security Model
Whitepaper
Published August 2022
---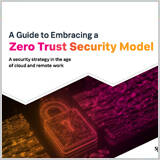 Today's new landscape — cloud, remote workforces and mobile devices — fails to conform to traditional security strategies. Instead, it opens up the attack surface by allowing data and workloads to live, operate and be accessed outside traditional means.
Organizations were already shifting their security mindset to adapt to cloud migration and digital transformation. Those shifts were only accelerated by COVID-19 and SolarWinds.
This is where adopting a zero trust security strategy comes into play.
In this short guide, we'll explore some of the driving forces that necessitate a zero trust strategy, as well as what that strategy entails and how it can be implemented.