Level Up Your SOC Automation Skills to the Next Level
Workshop
---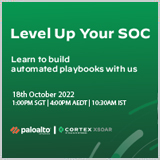 If you thought security operations were all fun and games, think again. Security analysts often feel like they're in a perpetual Pac-Man® state, manually chasing the same dots and racing against time while adversaries loom in the distance.
It's time to level up your SOC skills!
Join our hands-on virtual Cortex XSOAR workshop on 18 October to learn how you can get your job done faster by building automated playbooks. We'll take a deeper look at playbooks for common use cases, such as:
Phishing
Failed or suspicious user logins
IT and security operations
Malware analysis
This session is ideal for security analysts of all experience levels, including security operations staff and incident responders. We hope you can join us, and we look forward to seeing you online!
Seating is limited. Register today to secure your spot!