Palo Alto Networks + AWS Immersion Day
Cloud NGFW For AWS Hands-On Lab
---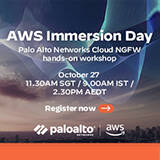 Technical Deep Dive and Hands-On Lab
Join us for a technical deep dive and hands-on lab focused on Cloud NGFW for AWS. It's a managed Next-Generation Firewall (NGFW) service that makes it easier to secure AWS deployments. This enables organizations to speed their pace of innovation while remaining highly secure.
The session includes a walk-through of:
Subscribing and deploying Cloud NGFW from the AWS Marketplace.
Creating a rulestack and rules.
Experiencing a Log4j attack being blocked by Cloud NGFW with the default best-practices security profile on Cloud NGFW.
We'll highlight how little effort is needed for customers to subscribe, deploy and apply recommended security controls. Easily secure your AWS application environment!
Sign up today, as space is limited.