Incode's Identity Ecosystem
Powering a World of Trust and the Future of CX
---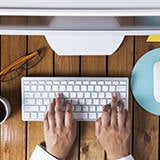 In this video, Jonathan Andresen, Senior Director of Incode Technologies, explains why identity is related to the first layer of security today and why it is also the foundation of customer experience.
See how Incode is building a world of trust in today's multi-cloud world and allowing digital transformation to flourish. The next-generation identity verification company achieved unicorn status last year.
Find out how Incode's identity ecosystem builds trust between users and organizations. Its identity framework allows the world's most innovative companies to transform their business approach. These companies use the framework to tailor services to unique market needs and fit digital strategies to business strategies. They foster customer stickiness with improved business services and experience.
Incode customizes identity at scale. It allows the largest organizations to scale up to millions of transactions simultaneously and seamlessly. These organizations leverage a global cloud computing platform, machine learning and AI that are integrated in a proprietary stack for identity verification. Data are kept private and secure. Learn how Incode enables Asia-Pacific businesses across key vertical markets to fulfill their identity needs – from digital onboarding and know-your-customer to omni-channel authentication and more – via seamless, secure and frictionless processes. The use case possibilities are limitless.