How To Build A Digital Wallet In Less Than A Day
Whitepaper
Published September 2022
---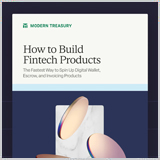 Building fintech products is hard. But with a few shortcuts, you can build a functional app in less than a day. Modern Treasury provides simple RESTful APIs to integrate multiple payment methods, track and reconcile payments, and record balances in real time.
This eBook walks through 3 examples—a digital wallet, an escrow product, and an invoice factoring service. Get step-by-step instructions for using the Modern Treasury API to build these apps from scratch, including API call examples and payment ops architecture.
Get the free eBook now to learn how to build better fintech products, faster.