Effective extended detection and response capabilities against complex attacks
Whitepaper
Published September 2022
---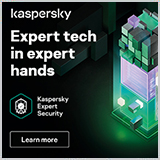 The Kaspersky Anti Targeted Attack Platform with Kaspersky EDR Expert at its core secures multiple potential threat entry-points at both network and endpoint levels and provides extended detection and response capabilities. The IT security expert is armed with a comprehensive toolkit for multidimensional threat discovery, in-depth investigation, proactive threat hunting and a centralized response to complex incidents.
The Kaspersky Anti Targeted Attack Platform is an advanced defensive layer, delivering multidimensional threat discovery at network and endpoint levels, visibility, complex investigation and response to organizations.
Download the KATA whitepaper now!