Move beyond risk and towards reputation management and cybersecurity
Whitepaper
Published September 2022
---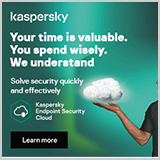 In the digital age, two key forces have made reputation defense even more urgent than ever before. The first is cybercrime, which opens up companies to attack from remote and unseen malicious actors whose actions can bring a company to its knees. The second is the broader digital context of social media, instant news, and open review sites such as Trustpilot, G2, Feefo and more. Combined, these two forces mean that not only is the battle front larger and more amorphous than ever before, but also that the challenge of containing any negative news (even including rumors) has become relentless, like a game of whack-a-mole.
Kaspersky Endpoint Security Cloud demonstrated 100% efficiency against ransomware attacks, according to a recent assessment by AV-TEST. As a result of three different scenarios and 113 attack samples, the product didn't lose a single user file and outran 10 different cybersecurity vendors.
Talk to Kaspersky about how you can become cyber-proud and build a secure reputation to drive growth with Kaspersky Endpoint Security Cloud.