The Modern SOC, Reimagined
Hear the future. See the future with Cortex® XSIAM™.
---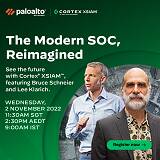 Today's enterprise generates many times more security data than only a few years ago. Yet the typical SOC operates on data silos, aging technology and manual activities that invite attackers to exploit the mismatch. Many customers have yet to integrate their cloud operations with their SOC.
So, what's next for the SOC? Join this unique one-hour launch event with renowned security all-stars Bruce Schneier, Rachel Wilson, and our own Chief Product Officer Lee Klarich, as they discuss today's advanced adversaries and share their expert views on how SOC teams must adapt to cope with a flood of disconnected data.
We'll also unveil Cortex® XSIAM™ – the platform that will revolutionize security operations across the enterprise and the cloud. Cortex XSIAM is designed to be the new center of SOC activities, replacing SIEM and other specialty products. An automation-first approach radically improves protection while transforming and streamlining today's manual SecOps model.