Career development | Slide Deck
Three ways in which developers are adapting to change
Published September 2022
---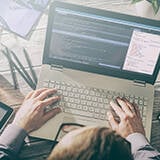 These slides support a webinar brought to you by Situation Publishing and sponsor Couchbase.
The role of a developer is constantly being redefined. Today, new languages and technologies, new working practices and new regulations are all having a profound impact.
The global skills gap is only increasing, so if you can keep up with the changing demands on developers, you get your pick of the most exciting and rewarding jobs. And if you want to employ the best of the best developers, you will need to satisfy their ambitions.
In our latest Regcast, Tim Phillips is joined by a panel of successful software developers to talk about three core areas where developers are augmenting their skills: how do they do it, and what are the rewards? Valeriane Venance of Twilio, Romaric Philogène of Qovery, Sonia Seddiki of Pitchy, and Brian King of Couchbase will be discussing:
Learning Paths: new languages, new career options, and the move into management
Digitalization: legacy systems migration and moving from on-prem to cloud
Regulation: coping with GDPR, accessibility, the Cloud Act, and licenses
Watch the webinar on-demand here.