Zero Trust With Zero Exceptions: Accelerate Your Cloud Security Journey
Webinar
---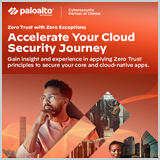 In a world of economic uncertainty and sophisticated threats, businesses need to securely develop cloud applications to safeguard against exploits, malware and ransomware while delivering a positive economic impact.
Protecting your core business and cloud-native applications requires security that is simple and comprehensive. This is where a strategic Zero Trust architecture helps! In this session, you'll learn how Zero Trust principles deliver on the promise to secure your cloud applications that are the lifeblood of your business.
Join us for a best practices event and demos where you'll:
Understand why businesses are adopting a Zero Trust architecture for the cloud.
Learn how Zero Trust enterprise architecture can protect your cloud applications.
Find out how easily you can use NGFW and Prisma® Cloud platforms to extend best-in-class security to your core and cloud-native applications.
Watch live demos of cloud security for virtual machines, container application deployments and cloud-native applications.