Real time applications: Merging Operational data with Real-Time Insights
A single integrated data architecture to harness both operational and analytics data and deliver a world of business critical results
---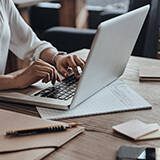 Real-time analytics is the driving force across nearly all industry segments. However, the way we think about what is possible using both historical and in-the-moment data is changing fast, right in timestep with the needs of your teams. There is a better way to harness both real time operational and analytical data, bringing both together at the moment of impact. This can transform frontend application performance and put real-time insights at your doorstep while improving the experience of your users.
Join us as we dive head-first into how a single, integrated data architecture of operational and analytics data stores coupled with real-time integration can transform insight and user experience.
We will discuss how to bring disparate data environments together into one architecture with petabyte scale and with millisecond latencies. We will also explore a reference eCommerce real time use case implementation that showcases this unified architecture. The use case will bring together:
MongoDBAtlas, the market-leading data platform for operational, real-time, and application analytics
Google BigQuery, the leading data warehousing solution with its predictive analytics capabilities built on advanced machine learning
Google Vertex AI to build, deploy, and scale machine learning (ML) models faster, with fully managed ML tools for any use case
Google Cloud Platform's Dataflow templates for seamless and rapid integration between MongoDB and Google BigQuery
By the end of this engaging conversation, you'll have a new path forward to bringing together all the best of your analytics and application environments, leading to smarter apps and faster business insights.