The Complete MDR Buyer's Guide
Whitepaper
Published November 2022
---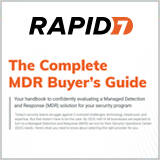 While cyber threats are now the #1 concern of CEOs, their companies are at a persistent disadvantage. Even if security teams were given blank checks to add the best technology and armies of experts — staffed 24x7x365 — they couldn't.
MDR is an instant extension of your internal team. You'll have 24/7 threat monitoring, detection and incident response services, technology deployed at the host and network layers, advanced analytics, threat intelligence, and human expertise in incident investigation and response.
This guide will help you understand the top decision criteria and questions you should ask each provider. It is based on thousands of MDR evaluations, hundreds of RFPs, and research from objective industry analyst experts.
Rapid7 made it easy for you with a list of key questions to ask as well as additional worksheets and tools to help you find the right partner for your business.