Less Busywork. More Security.
Save your SOC team hundreds of hours on daily tasks.
---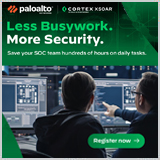 It's no secret that running a SOC is extremely stressful. From alerts to fire drills, many security professionals feel like things are out of control.
The Cortex® team is here to help you reclaim your day-to-day operations with proven automation use cases. Find out more about the field-tested use cases that our own SOC and customers have implemented to optimize efficiency in their organizations.
You'll leave this discussion understanding:
Automation shortcuts to streamline SecOps workflows.
Practical use cases implemented by our customers.
Why these use cases lend themselves so well to automation.
Join us on 14 December and learn how to maximize your SOC productivity.