Stop Zero-Day Malware with Zero Stress
PAN-OS 11.0 Nova: A Leap Forward in Network Security
---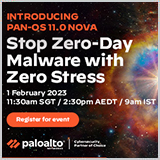 Palo Alto Networks has just announced PAN-OS® 11.0 Nova, the latest version of its industry-leading PAN-OS software, unleashing 50+ product updates and innovations.
Nova is a leap forward in network security. It stops 26% more zero-day malware than traditional sandboxes, detects 60% more injection attacks, simplifies security architecture and helps organizations adopt cybersecurity best practices.
Join Palo Alto Networks security experts for our virtual event, Stop Zero-Day Malware with Zero Stress, to learn how you can stay one step ahead of zero-day threats with Nova, which offers:
Security against zero-day threats. New Advanced WildFire® stops 26% more zero-day malware than traditional sandboxes, and innovations in our industry-leading Advanced Threat Prevention prevents 60% more unknown injection attacks that traditional IPS solutions miss.
Simplified and consistent security. Integrate proxy on NGFW, secure all traffic with one platform, and secure all apps and data with the industry's most complete CASB solution.
Stronger cyber posture. Easily adopt cybersecurity best practices and proactively address misconfigurations with AIOps.
The most comprehensive Zero Trust security for your IoT devices. See and secure every connected "thing" with ML-powered visibility, prevention and least-privileged access enforcement in a single platform with up to 90% of all IoT devices discovered within 48 hours.
You'll also get a peek into our five newest fourth-generation ML-Powered NGFWs, including the performance-packed PA-5440, the sleek PA-1400 series, and the latest additions to our PA-400 series – the PA-445 and PA-415.