PagerDuty gains reliable, scalable analytics solution to help its 19,000 customers deliver better digital experiences
Case Study
Published December 2022
---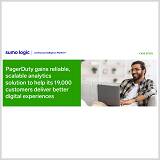 Founded in 2009, PagerDuty has grown rapidly and is now a leader in digital operations management. More than 19,000 customers across the globe rely on PagerDuty to deliver a better digital experience by identifying issues and opportunities in real time and bringing together the right people to fix problems faster and prevent them in the future.
As an innovative tech company that processes billions of events to support its customer use cases, PagerDuty relies on real-time data to understand performance—from the platform's core infrastructure to several hundred microservicess running in AWS to efficiently manage customer inquiries and support operations. Data intelligence is essential for PagerDuty to deliver on its SLA commitments for a high-quality customer experience.
PagerDuty selected Sumo Logic—a reliable and scalable cloud-native solution—to provide much-needed operational insights.