How to deliver a reliable and secure digital customer experience
Six strategies to prevent unwanted obstacles from impacting end-user journeys.
Published December 2022
---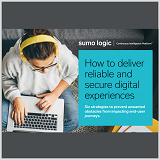 Customers today demand exceptional, seamless digital experiences. 65% of all consumers find a positive experience with a brand to be more influential than great advertising. This adds pressure on organizations to build secure, reliable and frictionless digital customer experiences
As more and more applications rely on complex, interdependent components, like microservices, traditional monitoring approaches can no longer keep pace.
Modern applications need a better way to detect and respond to performance and security incidents quickly at any point during the customer journey:
- Identifying root causes and pre-empting disruptive events that affect the digital experience.
-Troubleshooting complex environments and understanding how an application's usability correlates to business goals.
- Having reliable analytics, from browser to infrastructure, to innovate faster and release secure new digital services with agility
Whether customers are engaging with your application via their mobile device, physical store HMI (human-machine interface) devices, or online digital channels, every digital touchpoint matters when it comes to increasing customer acquisition, loyalty and brand trust.
This guide will show you how to resolve points of friction, identify opportunities for greater customer satisfaction and strengthen your bottom line with an exceptional digital customer journey that protects your users — and their data — in real time