The Known (and Unknown) Risks of Ransomware
How Cybersecurity Leaders are Aligning Cyber Risk and Business Risk
---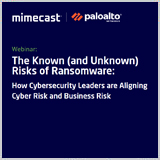 Ransomware has become one of the primary threats to organizations of all types over the past few years. And, the frequency and sophistication of attacks appears to breed a sense of inevitability that attacks will happen. Some cybersecurity leaders are resigned to a breach, and in turn, they report feeling less personally responsible if criminals succeed, as long as mitigation strategies were in place. However, no technology or ransomware protection strategy is completely foolproof – organizations must fight back together against ransomware.
Join our Panel of Mimecast and Palo Alto Networks - Unit 42 cybersecurity experts as we discuss fighting back against Ransomware with the power of together.
This conversation will explore:
Highlight from Mimecast's 2022 State of Ransomware Readiness Research
How organizations connect and optimize their security ecosystems to fight back against ransomware together
How you can apply best practices to your own cybersecurity teams to defend against the next Ransomware attack.