Can serverless SaaS scale up your business?
How Bud Unlocked the Value of Transactional Data with DataStax and Google Cloud
---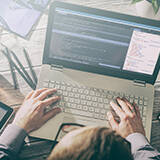 In September 2021 Bud, a fintech, had the chance to accelerate its growth and have a cloud first approach. But its business model – using machine learning to build models that helped its financial services clients to serve their customers better – meant that scaling would require ever more dedicated staff to keep its self-managed open-source Apache Cassandra implementation on the road. But Bud wanted to do what it does best: harness the value in transactional data.
What happened next? Bud partnered with DataStax to migrate to Astra DB on Google Cloud, meaning it has been able to massively scale globally. Bud is now operating on three continents, has just landed $80m in funding, and its product teams can drive growth by focusing on what they do best.
Want to know how they pulled it off? Then join Michael Cullum of Bud and Orme de Saint Hilaire of DataStax as they tell the Reg's Tim Phillips the story of how Bud boosted its growth, and how you can do the same. They will discuss:
The problems of success when managing large amounts of data
How DataStax Astra and GCP delivered a rapid scale-up
What Bud learned from its implementation