Headwinds, Crosswinds and Tailwinds
Securing your way in the cloud during turbulent times.
---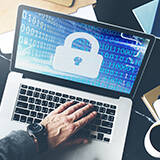 Is uncertainty the new normal? Between global pandemics, the alarming impact of climate change, ongoing political unrest and economic turmoil, you might say it's the end of the world as we know it. And in today's increasingly digital world, where our most critical data is stored in the cloud, the need to secure it all has never been more crucial.
As we close another tumultuous year and head toward an unpredictable 2023, Prisma® Cloud CSO Bob West and senior director of product marketing Charles Goldberg sit down to chat about cloud security as it relates to current events. West and Goldberg unpack the conversations happening among IT professionals, business leaders and at the board level while examining the potential within cloud security to reduce uncertainty in the face of multiplying variables.
Bob West Bob joined Palo Alto Networks after more than 20 years in leadership roles with banks, product companies and professional services organizations. He is responsible for evangelizing howPrisma Cloud facilitates the transition to the cloud. Bob provides counsel to Palo Alto Networks' customers, prospects, governments, regulators and partner ecosystem.
Charles Goldberg Charles Goldberg is the Senior Director of Prisma Cloud Product Marketing, at Palo Alto Networks. His team raises the industry's understanding on effectively securing and reaching compliance for cloud applications by applying modern techniques from development through production. Prior to Palo Alto Networks he headed product marketing for AWS External Security Services, where he helped drive the adoption of many popular services for vulnerability management, cloud security posture management, and threat detection.