Safeguarding your file data from cyber attacks in 2023
Meeting the security challenges of unstructured data
---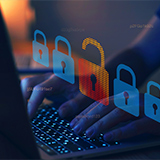 You're capturing more unstructured data, and that means you're storing it, managing it and protecting it too. If your security doesn't keep up with increasingly sophisticated attack vectors, you're vulnerable. So, what security features and capabilities do you need to secure your file data storage, and what are the challenges you must face in 2023?
Join Dell Security Experts, Kevin Noreen and Phillip Nordwall, as they reveal their five cyber security predictions for 2023 for file data and explain how Dell is helping customers address these challenges with its leading PowerScale scale-out file solutions. You will hear:
Five data storage security predictions for 2023
The evolution from cyber security to cyber resilience
What's urgent, what's important for your data storage strategy
How Dell and PowerScale, the world's most cybersecure scale-out NAS¹ solution, can help you protect your unstructured data
¹ Based on Dell analysis comparing cybersecurity software capabilities offered for Dell PowerScale vs. competitive products, September 2022.