The Keys to Scaling Digital Value
Whitepaper
Published January 2023
---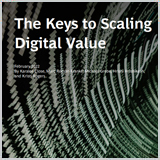 Start Solving for Innovation with Google Cloud
Your organization can become a digital leader by partnering with Google Cloud. We help you manage technology tradeoffs and offer expertise on where to best place investments to work smarter, faster, and more securely.
Open Cloud: Commitment to multi-cloud, hybrid-cloud, and open-source lets you use your data and run apps in your environment of choice – without vendor lock-in.
Data Cloud: Machine learning and advanced analytics maximizes business insights from your data.
Trusted Cloud: Protect what's important with the same advanced security we use for our own operations.
Collaboration Cloud: Unite teams, collapse silos, upskill talent, and keep you on top of internal change with the digital tools and apps loved by billions, including Gmail, Chat, Calendar, Drive, Docs, Sheets, Meet and more – all in a single integrated workspace.
Wherever you are in your transformation, Google Cloud can get you there faster.
Download the research report and then reach out to our team to discuss how we can help you start to build what's next.