Fix The Unknown. Before You Know It.
Find and fix your attack surface risks with Active ASM.
---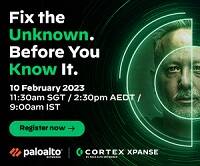 Attack surfaces are growing at alarming rates, outpacing security visibility and control. This growth leads to unknown exposures because most security teams today still rely on manual analysis and are weighed down by backlogged repairs. What can be done?
In this exclusive one-hour webinar, hear directly from our security experts Tim Junio, Greg Heon and Abhi Anbazhagan as they dive into the evolution of attack surface management (ASM) and ways to reduce the risks of a complex, persistent unmanaged attack surface. We will also unveil Active Attack Surface Management, our solution to transform and help your organization reduce the frequency and severity of security incidents. Learn how your teams can now use automation to proactively defend against attacks!
Join to learn:
How to reduce the risks on an unmanaged attack surface.
The features and benefits of Active Attack Surface Management.
How Active ASM with our Active Response Module works in a fast-paced demo.