Resolve '22 : The Rise of AIOps
An IT Ops Community Event
Published January 2023
---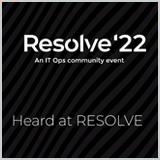 At BigPanda, we know how hard you and your teams are working to keep your organization's digital services running, while also transforming into a business enabler and accelerator.
The good news is, you're not alone.
Each year, hundreds of people come together for BigPanda's RESOLVE conference, an event specifically designed for the IT Ops, NOC, DevOps and SRE community. RESOLVE is the only event where you can hear from your peers as they share how they are addressing similar challenges that you are facing. Here's what you won't hear: speakers who are sharing theoretical concepts, vendor pitches or boring sessions with thousands of slides.
Check out highlights from the last RESOLVE conference and register to watch the full presentations on-demand.