Top 5 Use Cases for Intelligence-Driven Extended Detection and Response
EBook
Published January 2023
---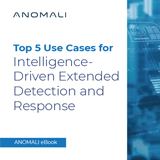 The list of security concerns has been magnified by a more dispersed workforce and the need to assess the risks associated with a proliferation of connected devices, the vanishing perimeter, expanding attack surface, and the ever-changing threat landscape.
36% of organizations find collecting, processing, and contextualizing threat intelligence data as their biggest challenge. With intelligence-driven extended detection and response, you are not limited to sifting through unattributed threat data and are able to associate threat indicators, actors, TTPs within frameworks like MITRE ATT&CK from your comprehensive search results.
Organizations need XDR to inform all aspects of their security defenses with prioritized intelligence to determine who their adversaries might be and their attack methodologies.
This eBook outlines five key use cases needed for XDR to be effective, including:
Pinpoint Relevant Threats
Accelerate Threat Hunting
Continuous Intel Monitoring
Elevate Strategic Intel
Predict the Next Attack