Should you modernise across your PC estate?
How the Intel vPro platform can help your business
---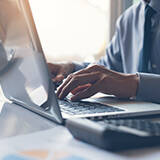 Hybrid working, multiplying threats, and the need to manage multiple devices, large and small, wherever your users may be. Intel's research shows ITDMs think stability, business resiliency and high performance are important for the future, but how do you achieve all three? One way is to invest in a common platform architecture.
That's what the Intel vPro platform sets out to deliver. More than 150m PCs supporting the platform have been sold, and your colleagues probably use some of them, but do you know what it can do for you, and what advantages that standardising on the platform can deliver? Join Jimmy Wai from Intel and the Reg's Tim Phillips, who will explore the new functionality that the 13th generation of Intel Core processors will bring, including how they've been architected to get the most from your software.
What do we need from optimal hardware in 2023?
Why software-based security solutions aren't enough in isolation;
Modern manageability solutions, on premise or via the cloud;
Ensuring sustainability considerations are addressed.