Connecting the Cross-Device Dots for Retail | Slide Deck
Bringing every customer touchpoint into a single view
Published February 2023
---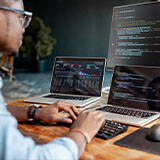 These slides support a webinar brought to you by Situation Publishing and sponsor MongoDB.
Retailers with wide-spanning operations and years of business have had to learn quickly to adapt to a changing consumer landscape. Customers and retailers alike have expectations of experiences that can follow them wherever they are, which can create challenges for retailers that only have a single touchpoint.
There are solutions that can snap together multiple points of customer engagement. Services like Atlas Device Sync can keep all data up-to-date across a number of platforms, from multiple devices, users, and various elements of backend infrastructure. This makes development easier and ensures performance and consistency as users seamlessly sync data between a client-side database and a fully managed backend in Atlas, even in offline settings.
Join host Nicole Hemsoth of Situation Publishing and Ranjan Moses, Global Head of Presales & Solutions at WeKan Enterprise Solutions as we walk through how retailers can accelerate and simplify development and streamline retail operations with a single touchpoint.
In this webinar we will cover:
The value of having a reactive, real-time mobile experience across devices coupled with a backend like MongoDB Atlas.
How this data is managed and streamlined and what customer outcomes can be expected.
Describe how Device Sync can open the data generated on mobile devices to a full range of Atlas services to further build rich insights.
What it means to have search, analytics, data transformation, and visualization on hand and in a flexible, high performance environment.