Simple and Sustainable Data Storage for Enterprise Imaging
Invest in a long-term solution from Pure Storage®.
Published March 2023
---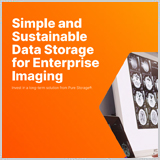 The ripple effect of the pandemic is still playing out, but healthcare organizations aren't waiting around to make improvements. There's an increased emphasis on supporting efficiency and driving productivity—and setting a foundation for future growth and adaptability.
In this follow-up to the eBook, The Great Data Reckoning: How Enterprise Imaging Is Managing Images and Data Better, find out how investing in a long-term enterprise imaging solution from Pure Storage can help your organization adapt during times of uncertainty while leveling up everyday patient care.