HPC in the cloud
Changing price-performance for Finite Element Analysis simulations
Published March 2023
---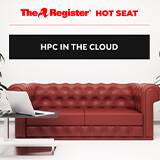 Industrial compute workloads have been moving to the cloud for years, but some niches were still favoured by on-premises offerings to achieve the very best engineering results.
Crash test simulations, analysing the latest materials in new buildings, or nearly anything that involves stress testing vibrations, heat, or flow on physical objects is the realm of finite element analysis (FEA). Yet FEA is something that has brought with it a particular set of compute challenges when translated to the cloud.
Truly understanding how safe and hardwearing the things around us are is key to going from the drawing board to the manufacturing production line. But the vast amounts of data, compute power, and fast storage required hasn't always meant the industry thinking was cloud-first… until now.
Join Sandeep Sovani as our own Tim Phillips puts him in the hot seat to explain the industry challenges around FEA and how AWS' Amazon EC2 Hpc6id instances powered by 3rd Gen Intel® Xeon® Scalable processors demonstrate that doing this type of analysis on-prem isn't the best way to trade off price and performance.