Top reasons to upgrade Red Hat Enterprise Linux
Checklist
Published March 2023
---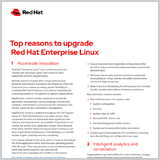 Red Hat® Enterprise Linux® is the world's leading enterprise Linux platform, certified on hundreds of cloud environments and with thousands of hardware and software vendors. Red Hat Enterprise Linux can be purchased to support specific use cases like edge computing or SAP workloads, but every subscription includes core benefits.
In this checklist, we'll explore the reasons to upgrade your Red Hat Enterprise Linux subscription, including:
Accelerate innovation.
Streamline manual tasks.
Get intelligent analytics and remediation guidance.
Improve your IT life cycle planning.