Improve your innovation in hybrid environments
Time to standardize on RHEL?
---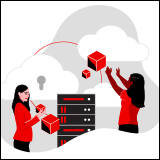 If your IT world is hybrid - a mix of new and old applications, diverse infrastructure, and varied processes - you may be wondering how to simplify so you can innovate faster and more efficiently. Starting with the right operating system is the first step to ensuring you have the foundation for success, regardless of where your business needs to go.
Linux has over time become the de facto choice of developers and IT departments around the world. But organisations often find themselves working to understand the value of paying for "enterprise" distributions instead of using non-paid alternatives with self support. This common debate is especially relevant as the end of life of CentOS Linux 7 approaches in June 2024.
In our latest Regcast Red Hat's Angie Li is talking to the Reg's Tim Phillips about:
The need to simplify in a hybrid world
The path from non-paid to Enterprise distributions
Approaches for simplifying your transition
Speaker: Angie Li - RHEL, EMEA Business Owner
Note: Red Hat will be sharing relevant announcements from their flagship event, Red Hat Summit, happening on May 23-25, in Boston. Watch this space – and our Regcast – to find out more.