A Comprehensive Guide to Ransomware Protection for Microsoft 365
Build your organization's cyber resilience
Published May 2023
---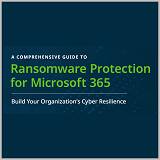 Hybrid working and lower capital costs are top reasons enterprises have moved quickly to adopt Microsoft 365. Yet, the subscription-based suite—including Exchange Online and other Office 365 productivity apps, OneDrive, SharePoint and Teams—is an enticing target for cybercriminals because of its large user base1 and rapid subscriber growth2 over the past two years.
If your business relies on Microsoft 365 (M365), collaboration minutes and user count aren't the only things you should be keeping an eye on. Ransomware is on the rise, and your sensitive data in M365 will increasingly be coming under attack.
Keep reading to discover how to improve your ransomware protection for M365.