Connectivity - the key to helping you go further
Brought to you by Virgin Media O2 Business
---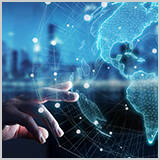 72% of organisations say old or outdated tech impacts their ability to operate efficiently, according to our recent research. But when 37% say rising costs are their biggest challenge, how can you invest in what you need while making the most of what you already have?
This webinar will help you answer that question. We're bringing together experts from both the public and private sectors to explore how the right technology, underpinned by the right connectivity, can unlock efficiencies across your organisation.
From making collaboration effortless to removing time-consuming tasks and improving your employee experience, we'll show you how to unlock the full potential of your people in a way that keeps your finance department smiling.
Speakers:
Catherine Amran – Director of Business – Virgin Media O2 Business
Martin McFadyen – Head of Public Sector – Virgin Media O2 Business
Kenn Walters – ISG Global Lead Analyst and Executive Advisor – ISG
This webinar is brought to you by Virgin Media O2 Business.