The Engine for AI-Powered Discovery
VAST Data has broken decades of tradeoffs and consolidated every aspect of infrastructure to make AI computing radically easier, more scalable and more efficient than ever before.
---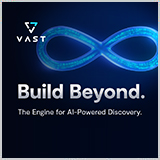 Watch this on-demand event as VAST shows how they've broken the tradeoffs of pre-AI era data infrastructure to enable organizations to deploy AI applications at scale. Join us as we hear from AI leaders from Pixar, Zoom, NVIDIA, and more, on how AI is accelerating humanity's quest to solve its biggest challenges.
During the webinar you will learn how it's possible to:
Ensure performance and consistency in a global namespace
Manage structured and unstructured data in a unified database management system
Provide scale and simplicity in an exabyte-scale platform
Reimagine storage, database and compute engine services in a unified and scalable system designed to create new opportunities for AI-driven discovery