How to Supercharge Your Workloads
Get greater performance, efficiency and availability, while optimizing cost and control
---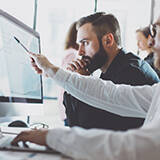 Nearly all organizations have workloads spread across on premises and clouds. But are these workloads where they work best?
Often the decision on workload placement is driven by one feature: cost, compliance, a mandate to use cloud technologies. But you might be thinking "if only ..". If only you could scale and flex on-prem too. If only you could get the same enterprise class storage capabilities that you have on prem in public cloud (and use your public cloud commit to pay for it). If only you could bring your preferred cloud stack to a colocation facility, so that it's close to your data.
Dell Technologies thinks it has cracked these problems. Dell APEX lets you run your workloads how and where you need to, always in keeping with your business goals. APEX delivers adaptable IT that flexes with your needs – on prem or in the cloud, you pay only for what you use, and you can scale up whenever you need access to more resources without expensive and slow provisioning. So how can you optimize your workloads, and what are the efficiencies and cost savings you can expect?
Join the Reg's Tim Phillips who will be talking to John Williamson of Dell Technologies to explain how APEX can help your organization.
Bring the best of cloud on prem, and the best of on prem to the cloud.
Develop a flexible, efficient IT strategy aligned to your business objectives
Achieve greater customer satisfaction, resource utilization, and innovation through workload optimization