Scaling HPC fabric interconnect to deliver predictable performance for AI and workload simulation, with Cornelis Networks and Altair
Why high-performance interconnects are essential to meeting the HPC/AI needs of manufacturing simulation workloads.
---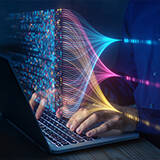 Innovation-led organisations working in fields like engineering simulation, digital twins and AI/ML applications face relentless pressure to improve time-to-results levels.
In the simulation space, technical computing platforms comprising High-Performance Compute (HPC) clusters that accelerate the design process have become the competitive lifeblood for organisations – especially manufacturing, where Computational Fluid Dynamics and Finite Element Analysis simulations are integral to rapid product design.
Manufacturers can also leverage the power of HPC for data analytics to improve existing products and services – and open new revenue opportunities.
With open source proving increasingly popular in simulation applications development, Cornelis Networks released an enhanced version of its high-performance Omni-Path interconnect – Cornelis Omni-Path Express – that's based on an industry-conformant enterprise-class open source software stack.
Working with partner Altair to leverage OpenRadioss – the open-source version of Altair's industry-proven finite element analysis dynamic simulation code, Altair Radioss – Cornelis Networks' Omni-Path Express accelerated host fabric adapters, edge/director class switches, and gateways provide a powerful combination that meets the HPC requirement for data intensive projects across sectors – academic, commercial, government and scientific.
Together, Cornelis and Altair deliver benchmark-busting performance that runs demanding workloads at optimal efficiency. But getting the most out of fabrics optimised for HPC, AI and High Performance Data Analytics requires an expertly-informed understanding of implementation issues.
Join The Register's James Hayes in discussion with Matt Jacobs, CCO at Cornelis Networks, and Eric Lequiniou, SVP of Development at Altair, to learn how:
High-performance interconnects are essential to meeting the performance and scale requirements of workloads while ensuring efficient operation and maximum productivity.
Cornelis Networks' Omni-Path Express delivers industry-leading network performance at the lowest software footprint through the optimised partitioning of network functions.
Cornelis' community-first approach ensures the interoperability needed to get the most out of your organisation's technical computing environment.
OpenRadioss benchmarks running on Omni-Path Express outperform alternative fabric offerings.