Data and AI Trends Report
Report
Published September 2023
---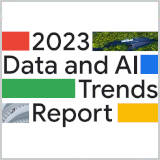 The Data and AI Trends report reveals the five biggest movements Google experts see in the data and AI space today. Read the report to discover forward-looking trends you just might want to incorporate into your data strategy.
As you look at the five data and AI trends in this report, the way they are evolving and how global organizations are contributing to them could surprise you.
To identify the current data and AI trends, we partnered with IDC on multiple studies involving global organizations across industries. We then asked Google thought leaders to weigh in on the research and reveal what's most important for organizations' data and AI strategies.
In this report, you'll learn:
The direction in which data cloud is headed, and why
How modern data ecosystems are being designed
Where AI fits into today's data strategies
What's needed to drive better outcomes with your business intelligence (BI) investment
The unexpected source of today's biggest data security problems, and how companies are addressing it