Gain a Complete Understanding of the SASE Landscape in 60 Minutes
Unlock better security outcomes with SASE architecture
---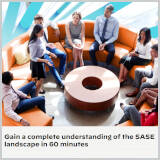 In today's world, as work becomes more location-independent, the attack surface has expanded exponentially. Adopting a SASE architecture helps you create and enforce a consistent security posture without compromising workforce agility, enabling your employees to access data and applications from anywhere.
If you would like to gain unprecedented visibility across your network while ensuring flexible, resilient user access irrespective of the location, then this Masterclass is for you. Join the SASE Masterclass to confidently assess if your organization is ready to embrace SASE.
What can you expect to learn?
Driving the future with AI-powered SASE
Customer insights: Branch transformation with Single vendor SASE vs. Mix-and-Match
Deploying a successful SASE architecture
Also, learn from real-world use cases to understand if your organization is ready to adopt SASE.
Witness SASE in motion and benefit from best practices and SASE design principles.
Sign up for the session today!
Date: 5th October 2023
Time: 11:30am SGT / 9:00am IST / 1.30pm AEST