AWS Windows Migration & Modernization Day in Melbourne
Event
---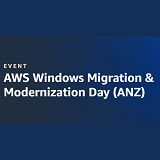 Do you have concerns about:
How the end-of-support for Windows Server 2012 and Windows Server 2012 R2 on October 10 2023 will affect your business?
How to modernize your existing .Net applications without significantly altering your application's code and basic architecture?
How to migrate your legacy SQL Server databases with little to no code change?
Then join us on 25 Oct at the AWS Windows Migration & Modernization Day in Melbourne as we dive deep into:
The technical and licensing implications of the endless cycles of Windows upgrades
The .Net modernization pathways and tools available, the benefits of modernizing your .Net applications and how you can get started
How you can migrate your Microsoft SQL server to Babelfish with minimal downtime
Whether you're just getting started on your migration/modernization journey or are already in the midst of it, this hands-on session is designed to help IT decision makers and practitioners optimize their IT expenditures.