Building Infrastructure for AI Applications
Private to Public AI Cloud: Seamless Deep Learning Infrastructure
---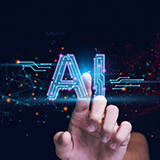 You've heard a lot about the new opportunities that AI brings. But by now you will also know about the significant challenges to your IT team if you are looking to unleash AI and deep learning.
Our latest Regcast takes you behind the scenes to hear how Lambda and VAST built a full service public and private cloud stack founded on a data platform purpose-built for the AI era.
Join Mitesh Agrawal, Head of Cloud and COO at Lambda and Jeff Denworth, CoFounder at VAST Data on November 9th at 11AM ET / 8AM PT. They will be talking to the Reg's Tim Phillips about why Lambda selected VAST Data to power its data centers, and the critical features that the VAST Data Platform unlocks for building AI clouds and unleashing AI and Deep Learning workloads.
Join us if you want to know more about:
The zero trust architecture that lays a foundation of encryption, auditability, security
Data management that allows mobility between public and private clouds
A simple single UI for the entire data estate