A tale of two transformations
Navigate change in an age of uncertainty
---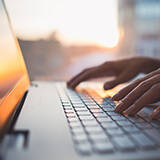 You don't need us to tell you that business is unpredictable. The last five years have shown that: coping with Brexit and Covid, the challenge of remote working, responding to global events and economic challenges can upend even the best strategies.
Your ability to react can make the difference between being stuck with expensive, unsuitable tech – or having a business model that puts you in the right place to respond to whatever the future brings.
Taking the right decisions mean financial flexibility, the opportunity to innovate and be agile. In our live interactive Regcast, we're going to tell you the story of how two businesses try to navigate the impact of the real world on their digital transformation.
Tim Phillips is joined by Savas Nicolaides, Abraham Barnes, and Steven Keogh from Pure Storage. What can you expect:
The chance to tell us how you would respond to today's business challenges
How good and bad choices affect your business outcomes
The value of Storage as a Service as way to future-proof your business