Hands on with Hyper-V 3.0 and virtual machine movement
Deep dive into Hyper-V
---
STAY UP TO DATE ON THIS TOPIC
Check the boxes & select Email or Atom/RSS Feed.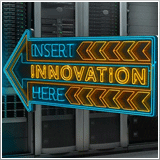 El Reg has teamed up with training provider QA to do the deepest of deep dives for you. Virtual machine migration has completely changed since the last Windows Server release: Paul Gregory, QA's Principal Technologist for Windows Server and virtualisation, joined Tim Phillips in the studio to demonstrate how virtual machine mobility works in Windows Server 2012.
We described mobility between shared storage nodes, virtual machine migration without shared storage, network virtualisation. We also discussed how network virtualisation leads to cross subnet migration, enabling virtual machine migration to other data centres either within an organisation or to a hoster or service provider, highlighting the technologies which mean you can burst to the cloud.
The event included live demonstrations of these feature set-ups and all your questions . So take a deep dive into Hyper-V with our on demand version of this event, which is now available here .
Plus we have a link to this free trial download of Windows Server 2012, for afters or befores.