Office 365 in Context
A review of drivers, needs and practicalities
Published April 2013
---
STAY UP TO DATE ON THIS TOPIC
Check the boxes & select Email or Atom/RSS Feed.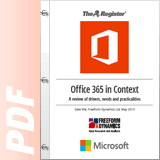 Gone are the days when office productivity revolved around the word processing, spreadsheet and presentation suite running on your desktop PC.
Users today are working in a highly connected manner, often across a range of different devices, and real-time collaboration mechanisms are now an integral part of many business environments.
Against this background, we consider the context for Microsoft's latest strategic bet in the productivity arena.