10 Practical steps for making voice a successful part of your UC roll-out
Plantronics
Published June 2013
---
STAY UP TO DATE ON THIS TOPIC
Check the boxes & select Email or Atom/RSS Feed.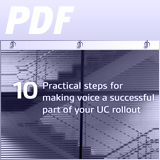 You've thought long and hard about the investment you're making in UC.
The promise of what it can do for your company is high — but so is the imperative to get solid ROI. How can you ensure that your people buy into this, adopt, and own everything UC can do for each of them?
We've compiled ten steps to streamline the audio aspect of your UC deployment. Putting an audio strategy in place now can help you plan, deploy, and eventually drive higher adoption rates. These best practices aren't just theoretical; they're the direct result of our participation in many UC roll-outs and our strategic partnerships with the leading UC providers. And, they're a vital ingredient in creating a richer audio experience in UC.