2015 Cost of Cyber Crime Study: United States
Improving enterprise security
Published October 2015
---
STAY UP TO DATE ON THIS TOPIC
Check the boxes & select Email or Atom/RSS Feed.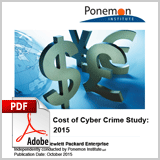 Discover how you can improve enterprise security with knowledge on what a successful cyber attack can cost your organization.
The number of cyber attacks against US companies continues to grow in frequency and severity. Recent cyber attacks include Anthem Blue Cross and Blue Shield, United Airlines and American Airlines. The Office of Personnel Management sustained an attack that resulted in the theft of information about more than 4.2 million federal employees and attacks against the Internal Revenue Service resulted in the theft of personal information about more than 100,000 taxpayers.