Achieving agile IT operations with unified infrastructure monitoring
An EMA™ white paper prepared for CA Technologies
Published August 2016
---
STAY UP TO DATE ON THIS TOPIC
Check the boxes & select Email or Atom/RSS Feed.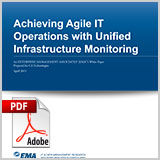 Enterprise IT organisations are often organised into subgroups of technology specialists responsible for managing a particular domain in the organisation, such as servers, networks, storage, virtualisation, or applications. This siloed approach to IT operations is a natural outgrowth of the specialisation of administrators who are equipped with narrowly focused management tools. As long as these administrators continue to live in their management silos, infrastructure operations will be slow to respond to change, and operational workflows will be slow and choppy.
This status quo may have been acceptable a decade ago, but many enterprises have found that business conditions can no longer abide. Enterprises need to streamline IT operations to support a more agile approach to delivering new services and revenue-generating applications. The essential ingredient in achieving this aim is an infrastructure management tool set that breaks down silos and unifies monitoring and workflows. The time has come for unified infrastructure monitoring tools.