5 pillars of API management
Managing the new open enterprise
Published October 2016
---
STAY UP TO DATE ON THIS TOPIC
Check the boxes & select Email or Atom/RSS Feed.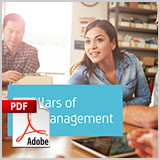 Across industry sectors, the boundaries of the traditional enterprise are blurring, as organisations open up their on-premise data and application functionality to partner organisations, the Web, mobile apps, smart devices and the cloud. APIs (application programming interfaces) form the foundation of this new open enterprise, allowing enterprises to reuse their existing information assets across organisational boundaries.
APIs empower enterprises to quickly re-purpose IT systems, add value to existing offerings and open new revenue streams. It should come as no surprise, though, that exposing on-premise systems via APIs also creates a range of new security and management challenges. The term "API Management" refers to a set of processes and technologies that have emerged in recent years to help enterprises meet these challenges.