When Your People Are Engaged, Your Projects Really Move
Effective resource management is essential to your success
Published November 2017
---
STAY UP TO DATE ON THIS TOPIC
Check the boxes & select Email or Atom/RSS Feed.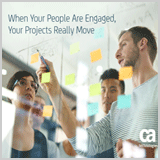 In a fast-changing app economy, agility and alignment are king. Without these attributes, it's difficult to address top priorities around growth, customers and workforce. Organizations need to know that they're developing and delivering the solutions that customers want when they want them. That means aligning the right resources to best-bet projects in order to roll out new offerings on time and within budget—and ultimately deliver value to the business.
Clearly, effective resource management is essential to your success. So what's getting in the way? Read this ebook to find out how to break free from the common barriers to success.